Diem Blog
The nation's first boutique cannabis box
Ever feel like a kid in a candy store as you step into the local dispensary? A vast array of the best cannabis products are shouting from every corner, begging you to take them home. Pre-rolls, edibles, tinctures, topicals, and some of the best bud is suddenly at your fingertips. 
Needless to say, it can get a little overwhelming.
Here at Diem, we know what that feels like. With a seemingly infinite number of the best cannabis products on the market, we understand how tough it can be to choose just one that's right for you. And nothing feels worse than making frequent trips to the dispensary, constantly trying to decide what goodies to grab next.
So we decided to come up with a solution. And that's how we created the Diem Farms Subscription Box.
How it works
As the country's first and only boutique cannabis subscription box, we've found a way to make getting what you want simple once again. And best of all, the process is easy.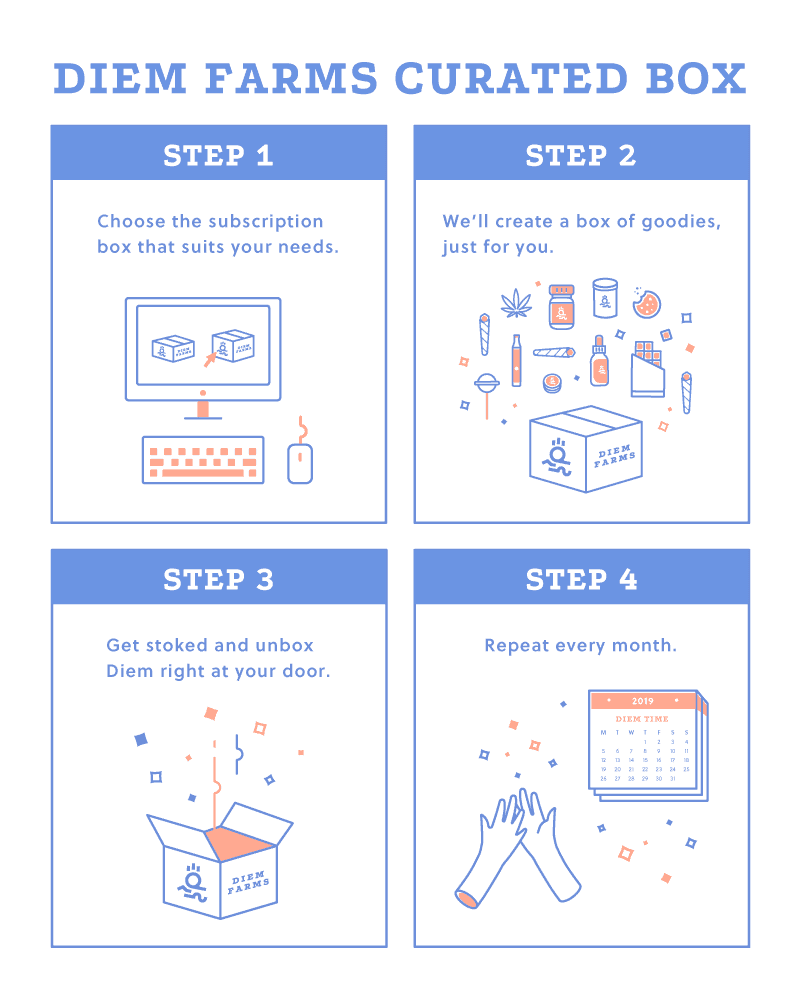 Get the box that fits your needs
Start out by selecting which type of box you want online. With two tiers to choose from, you can decide how much you want to spend per month – and how much weed you want delivered to your door. 
Perhaps the basic box would suit you well at $75 per month. But if you want a little more, upgrade your box to the VIP option for $125, where you'll receive a box with even more of our highest quality options, including flower, prerolls, and hash. 
From there, our team of experts at Diem Farms will hand-select the goods, boxing up your materials before sending them into the wild. You can choose to pick it up at your local Diem location from the 1st to the 5th of each month or have it delivered straight to your door for no extra charge.
Stay as long as you'd like or unsubscribe any time
Unlike other box subscription services, we're not here to tie you down. We won't force you to sign long-term subscription contracts, nor do we implement unnecessary fees. You are free to sign up or cancel your service as often as you like (though we're pretty sure that you're going to stick around for this stuff – it gets good).
There's a reason cannabis and stress have never gone hand in hand. Buying the cannabis products you want should be an easy task, and we want to make that process simpler than ever before. 
With Diem Farms' Subscription Box, getting the goods has never been easier. It's time to enjoy.