Diem Blog
6 Fall-Inspired Cannabis Recipes You Need to Make
The temperatures are dropping, the leaves are changing colors, and the crisp autumn air is greeting us the moment we stroll out the front door. It's time to kiss those summer months goodbye, and say hello to all things fall – especially the food.
From corn mazes to pumpkin patches to candy corn, there's a lot to love about fall, but at Diem, what we really go wild for is the food.
Sweet potatoes, apples, pumpkins, pies, and more have us prepared to pack on the pounds for winter, but as we sat around discussing our love of comfort food, suddenly we were asking a rather important question:
How can we incorporate cannabis into these Fall-inspired recipes?
Using a bit of in-house expertise, we compiled a list of the best food to enjoy during fall foods in classic stoner fashion. Though the list was rather long (blame the Bubba Kush), here you'll find our 6 favorite Fall-inspired cannabis recipes. It's time to get reading, get cooking, and get baked.
It All Starts with Cannabutter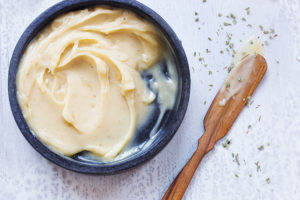 Because most of these recipes advise that you use butter, we thought it wise to provide instructions on how to make cannabis butter, or cannabutter for short. From there, all you need to do is simply add the cannabutter to the recipe, and your edibles for Fall will be good to go. So how do you make this important ingredient? It's actually rather simple!
Ingredients
1 cup of butter
1 cup (7-10 grams) of ground cannabis, decarboxylated
The first step that newbie cannabis cooks often forget is that in order to make a more potent final product, first you need to "decarb" your flower before you can make it into butter. This is because cannabis buds produce a non-intoxicating acidic cannabinoid called THCA. When we smoke or hit a vape, that THCA is converted via heat to pure THC. But if we try to decarb cannabis directly in the butter itself, often the finished product will be weaker and taste worse. Using a handy cannabutter recipe courtesy of Leafly, let's learn the basics of this staple edible ingredient.
The Step-By-Step Process
To decarb your cannabis flower of choice, start by preheating your oven to 245?F before placing the buds on a non-stick, oven-safe pan. Use parchment paper on the bottom to ensure the weed doesn't stick to the pan, and insert it into the oven for 30-40 minutes. If the cannabis is older or drier, you may need to give it a bit less time in the oven. Set a timer to go off every 10 minutes, and gently mix the buds with a shake of the pan when ten minutes have passed. Once your bud has been decarbed, you can move on to the next step.

Use a hard, durable grinder to coarsely grind your weed as if you were preparing it for a joint or a bowl.

Add one cup of water and one cup of butter to a pot or saucepan. Simmer these two ingredients on low until the butter has fully melted. Adding the water ensures that the butter won't burn as it melts.

As the butter melts, add the ground cannabis to the mixture and let it simmer for 2-3 hours. This may sound like a long time, but slow and steady is always the best option when making cannabutter. As the mixture simmers, give it a stir every now and then while ensuring it doesn't come to a full boil (too much heat is bad for your weed, dude).

Once the cannabutter has simmered for a solid few hours, use cheesecloth to strain it over a jar. Doing so will remove the ground weed and ensure your butter is smooth. As you do this, avoid squeezing the cheesecloth and instead let it drain naturally — squeezing may push some of the bad-tasting plant material into your final product.

If any excess water is apparent in your butter, let it sit in the fridge for an hour to condense before draining the water from the jar. Keep the cannabutter refrigerated once you're all done, and be sure to dose carefully with each recipe you choose to add it to. It may be more potent than you think!
Now that we've covered the basics of cannabutter, it's time to hop into those recipes like you would a fresh pile of fallen leaves. In classic fall fashion, we're starting things off with one of our all-time favorites: caramel apples.
Cannabis Caramel Apples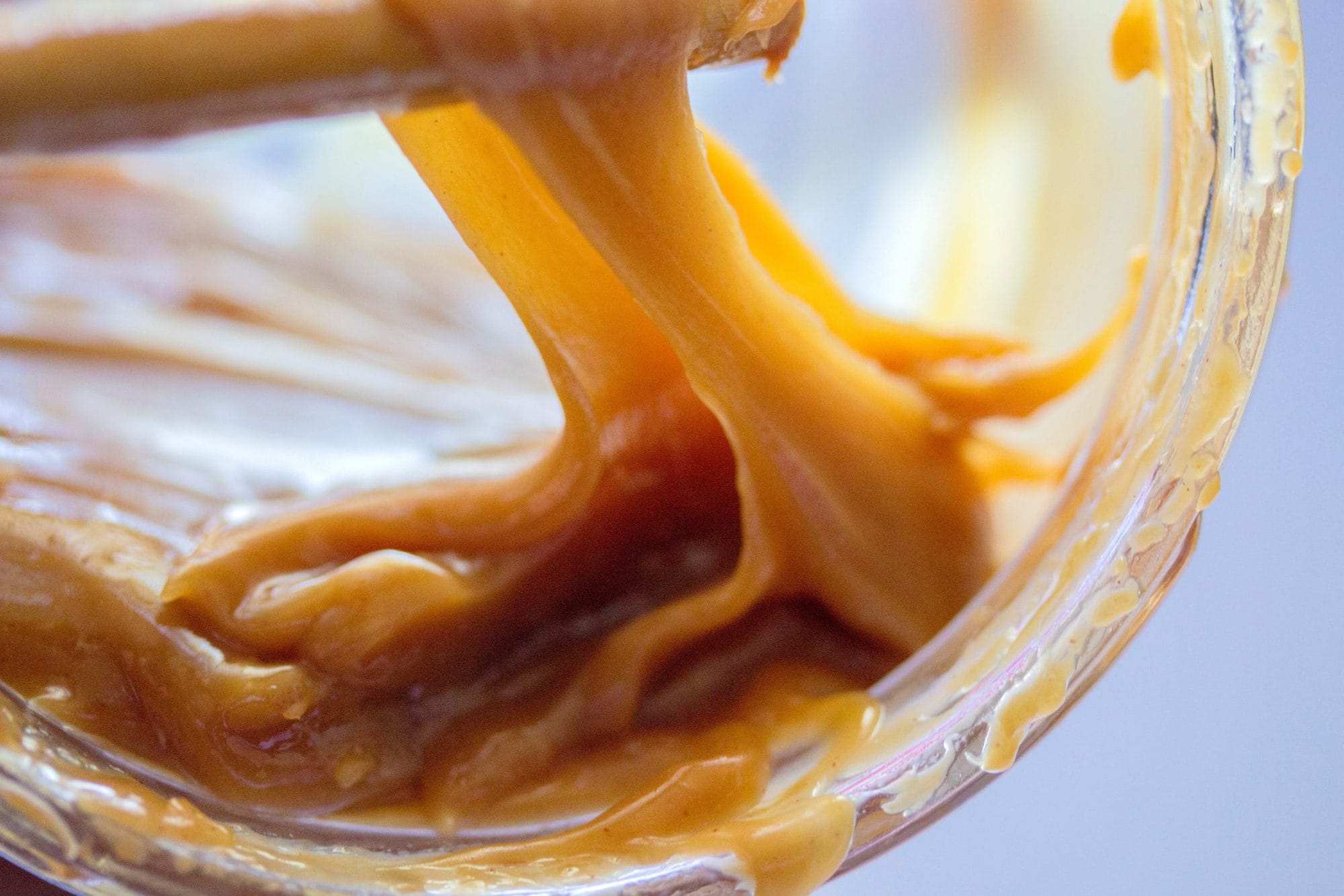 Nothing screams fall quite like the classic caramel-covered apple. Sure to make a gooey mess that's both sticky and sweet, this treat is perfect for those that want an edible that packs intense flavor into every single bite (and of course an intense high along the way). By using a recipe that comes courtesy of the 420 Foodie Club, you can't go wrong with this fall-inspired treat.
Ingredients
8 Apples of Your Favorite Variety (we recommend Honeycrisp, Gala, or Pink Lady apples)
½ Cup Cannabis Butter
1 Cup Brown Sugar
½ Cup Light Corn Syrup
½ Cup Sweetened Condensed Milk
2 Tsp Pure Vanilla Extract
Toppings such as nuts, candy, etc.
Tools
Wooden Popsicle Sticks
Parchment Paper
Candy Thermometer
Instructions
Place the popsicle sticks in the apples, and dip them in boiling water for 5 seconds to remove any wax on the skin. Then dry them off with a towel.

Stir the butter, brown sugar, corn syrup, and sweetened condensed milk in saucepan over medium-to-high heat until it's boiling. Stir constantly to prevent it from burning, then reduce the heat to medium.

Cook the caramel for 25-30 minutes or until your candy thermometer reads 248? F; the mixture should be thick. Remove your caramel from the heat and stir in some vanilla.

Finally, dip your apples and coat them with candy, but give them time to cool on parchment paper before you dig in!
Though final results may vary based on the strain of weed you choose, each apple will contain approximately 44mg of THC, meaning they're sure to pack a punch at your next fall party.
Pot Pumpkin Pie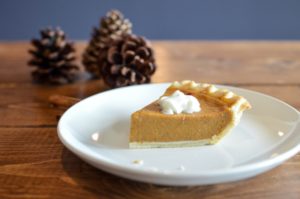 If your list of Fall-inspired cannabis recipes doesn't include one for Pot Pumpkin Pie, unfortunately, you're doing something wrong. But if that happens to be the case, then have no fear! Portland's own Willamette Week has come to the rescue with an insanely delicious Pot Pumpkin Pie recipe that's sure to send your tastebuds (and mind) into the stratosphere. Just be sure you don't overindulge with this treat, or pretty soon you'll be feeling as magical as the Great Pumpkin himself.
Ingredients
2 Large Eggs
½ Cup Brown Sugar
½ Cup Granulated Sugar
2 Tablespoons Cannabutter
2 Cups Pumpkin Puree
1 Can Evaporated Milk
1 Teaspoon of Cinnamon
½ Teaspoon of Nutmeg
½ Teaspoon Ground Ginger
¼ Teaspoon Ground Cloves
1 Store-bought Pie Crust
Instructions
Start by preheating your oven to 340?F.

In a mixing bowl, beat the eggs and sugars together until light and fluffy.

Add the cannabutter, pumpkin, milk, cinnamon, nutmeg, ginger and cloves. Mix well.

Pour into a pie shell and bake until done, about 55-60 minutes. The pie will rise during baking and settle when cooling.

Serve with whipped cream.
Creamy Cannabis Mashed Potatoes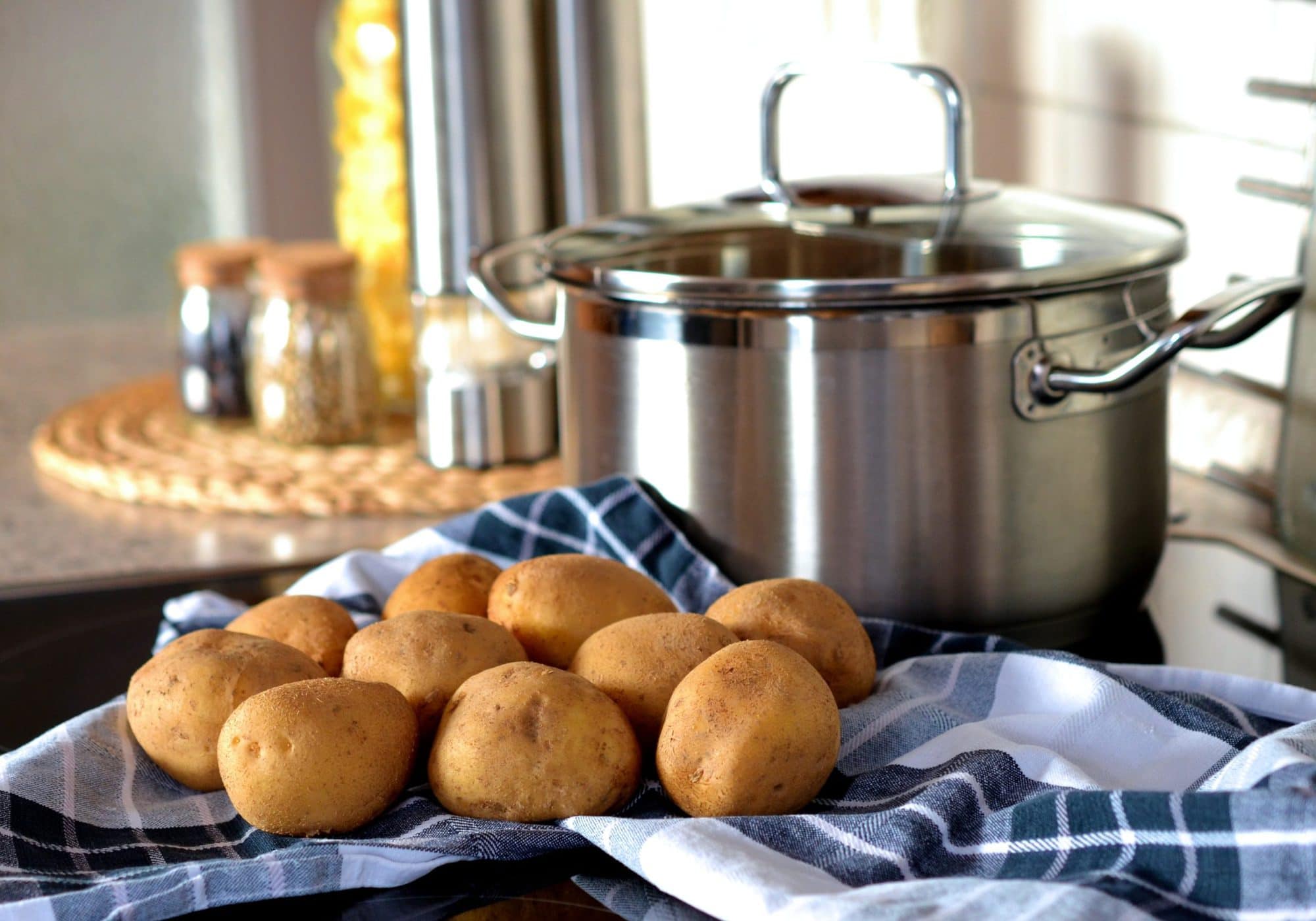 If there's one food in this entire world that seems to be made into every other known food, it's the potato. Sure, hash browns and tater tots are always solid go-to potato options, but can anything hold a flame to cannabis mashed potatoes on a chilly fall evening? We didn't think so either. Use this cannabis mashed potatoes recipe, courtesy of Leafly, to add one more potato-based source of nourishment to your diet. You won't regret it.
Ingredients
5 Pounds Yukon Gold Potatoes (cooked & mashed)
2 (3 ounce) Packages of Cream Cheese
¼ Cup Cannabutter
¼ Cup Regular Butter
½ Cup of Sour Cream
¼ Cup of Milk
1 ½ Teaspoons of Garlic Powder
1 Tsp Fresh Rosemary, Chopped (optional)
Ground white pepper to taste
Instructions
Place the potatoes in a large pot of lightly salted water. Bring them to a boil, and cook until tender for about 15-20 minutes.

Once cooked, drain them and mash them.

While the mashed potatoes are still warm, combine them in a large bowl with the cannabutter, milk, butter, cream cheese, sour cream, garlic powder, and pepper.

Sprinkle fresh rosemary on top. Serve and enjoy!
Creamy Broccoli and Red Potato Soup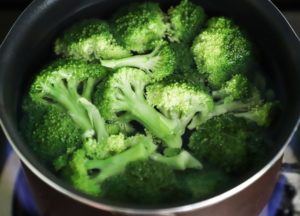 When fall brings on the colder temperatures, we bring on the wonderfully warm soup! Using a recipe from Oregon's own cannabis chef Livvie Smalls — who makes the very best cannabis-inspired foods, we might add — it's time to warm up your insides with the best soup to hit your taste buds since, well, ever!
Ingredients
3 Tbsp Unsalted butter (you can sub vegan butter)
1 Small Onion, Finely Chopped
2 Garlic Cloves, Minced
4 Tsp Corn Starch
3 Cups Milk (you can use real milk or unsweetened cashew milk)
1 Cup Gluten Free Vegetable Broth
1 Cup Water
1.6 Lbs Red Skin Potato, Peeled and Cut Into 1 ¼ – 1 ½" Cubes
5 Cups Broccoli Florets (bite size) (about 1 large broccoli)
1+ Cups of Grated Cheese (Use Cheddar or Daiya meltable vegan cheese)
Instructions
Melt butter in a large pot over medium heat. Add onion and garlic, cook for 5 minutes or until softened.

Cook for 30 seconds.

Add about 1 cup of milk and stir quickly, it will thicken quickly. Add remaining milk gradually, whisking as you go.

Add broth, water and potato. Bring to a simmer, and cook for 12 – 15 minutes, stirring occasionally, or until potatoes are just cooked. If the soup gets too thick, add more broth (or water) – depends how rapidly you are simmering.

Then mix together 4 teaspoons of cornstarch / cornflour and a splash of water to make a slurry. This will thicken the soup.

Add broccoli and stir. Cook for 2 minutes, then take the pot off the stove.

Stir through cheese (I use 1 cup). Adjust salt and pepper to taste.

Ladle into bowls and top with garnishes of choice.
Hot Canna-Buttered Rum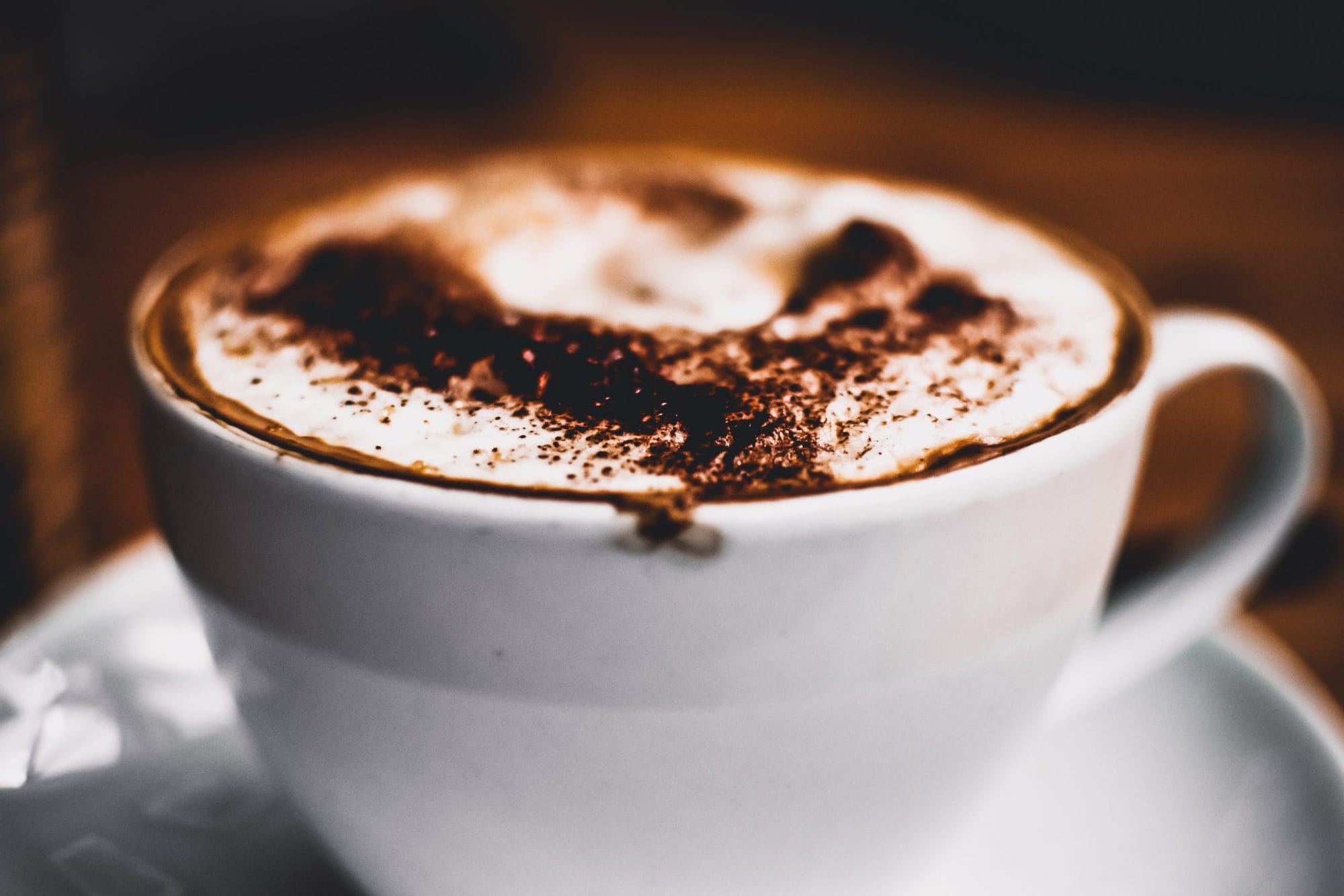 Now that you've worked your way through every other recipe on the list, it's time to finish things off with some hot canna-buttered rum. To create this delicious drink, we simply took the classic hot buttered rum recipe and substituted cannabutter for unsalted butter. The taste from the cannabutter may add an interesting spin but will likely be drowned out by the warm rum, thus creating a drink that's sure to soothe both the body and mind.
Ingredients
⅔ Cup Packed Dark Brown Sugar
½ Cup Cannabutter (room temperature)
¼ Cup Honey
½ Teaspoon Ground Cinnamon
¼ Teaspoon Ground Nutmeg
⅛ Teaspoon Ground Cloves
Pinch salt
¾ Cup Spiced Rum
2 Cups Boiling Water
4 Sticks Cinnamon (for garnish)
Instructions
Using an electric mixer, beat the brown sugar, butter, honey, cinnamon, nutmeg, cloves, and salt in a medium bowl until blended and smooth.

Transfer the mixture to a 4-cup (or larger) measuring cup.

Add the rum and then 2 cups of boiling water.

Stir until the butter mixture dissolves, then divide the buttered rum among 4 mugs.

Garnish with some cinnamon sticks and serve.
Diem Has Exactly What You Need!
If you find yourself eager to make these treats, but don't feel like running to the dispensary (in Lynn or Worcester MA), have no fear! While we here at Diem pride ourselves on producing some dank bud, we also deliver straight to your door in both Salem and Portland. All you have to do is jump on the ole internet, pick your favorite products, and soon enough you'll be crafting your own fall-inspired recipes in no time at all. It's time to get baking and get baked with Diem.
Disclaimer:
*Statements made on hellodiem.com have not been evaluated by the U.S. Food and Drug Administration. These products are not intended to diagnose, treat, cure or prevent any disease. Information provided by this website or this company is not a substitute for individual medical advice.